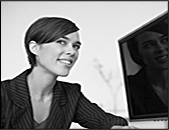 Training
PayPlus Software, Inc. offers 1 - 2 hour sessions via the Internet. These online training sessions eliminate the need to travel, thus reducing the cost to your company.
The price is $125 per 1 hour session for one person, $150 for two people (same session, same date), $175 for three people or $200 for four people.
The number of attendees is limited to 5 per session. Sign up now.
We also offer customized online training for your company. If you need a new employee trained, we can do that via the Internet in multiple sessions. If you want individualized training on certain topics we can work with you on the agenda and you can have exclusive training for your company. Online training is $125 per hour.
We also offer on site customized training. This is $1000 per 8 hour day. For training at a customer site, customer agrees to reimburse SLS for all travel expenses related to this training, i.e. airfare, hotel, meals, etc.
E-mail:
support@slstriad.com